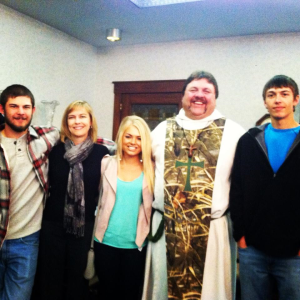 Rev. Phil Rogers, Pastor & Family
Do not be conformed to this world, but be transformed by the renewing of your minds, so that you may discern what is the will of God–what is good and acceptable and perfect. -Romans 12:2
I have always been an outdoorsman who loves to hunt and fish. Though I was not raised in faith I believe that it is my love of nature and the balance of the natural world which prepared me to open my heart to Jesus. I think it is obvious that our world was created with an intelligent design. While playing football at the University of Nebraska I met some team mates that were strong Christians who helped me come to know the truth of unconditional love, amazing grace, and the assurance of salvation. I will Labor to help create a similar atmosphere here at MUMC where the lost may find direction, the broken grace, and all may come to seek and know our Savior Jesus Christ.
After college I worked for fourteen years at a large corporation in finance, but in 2000 could no longer deny God's calling in my life to ministry. I served in youth ministry until January 2015 when I moved to an associate pastor, and was blessed to be appointed pastor to Manchester UMC in July 2015.
I am married to Debbie and we have 3 children, Zachary and his wife Kathleen, Kristin, and Jacob. We also have a Labrador named Elijah.
Peace